Welcome
The Association of Continuity Professionals is the nation's leading non-profit association, comprised of professionals who are responsible for or have an interest in business continuity, preventing disasters, providing disaster recovery information and facilitating the resumption of normal business activities following a major disaster.
Members of ACP nationwide represent business, industry and government organizations at all levels. Included are executives, administrators, managers, directors, writers, legal staffs, accountants, engineers, sales-persons, records managers, archivists and many more professionals.
Become a member and join ACP!
Invitation to Membership Brochure
Latest News
We had a great time at the Port of Houston Boat Tour on August 13th!
Don't miss out on the fun! Come to our next event!
---
Preparing for Pandemic Lunch and Learn
Date: September 10th, 11:30 a.m. - 1 p.m.
Location: Texas Children's Hospital West Campus (18200 Katy Freeway, Houston, TX 77094)
Join us for this special Lunch & Learn event at Texas Children's Hospital – West Campus near the Energy Corridor for an enlightening presentation by Dr. Amy Arrington and Dr. Brent Kaziny from Texas Children's/Baylor College of Medicine on "Preparing for Pandemic". We will hear about current threats and how to prepare your operations for potential outbreaks.
As an added bonus, we will have an opportunity to tour the Special Isolation Unit on campus and view the technology and facilities that enable the safe treatment of serious infectious diseases from Measles to Ebola.
Texas Children's will be providing lunch.
Seating is limited.
Synopsis: "When a pandemic hits, it spreads rapidly across an area's population, disrupting business operations and impacting everything from your workforce to your customers and suppliers. That's why organizations have a duty of care to their employees to plan for pandemics." Business Continuity Institute – May 2018
Is your workforce global? Is your supply chain scattered across borders? Or, do you just happen to live in the most diverse, international city in the United States with business and cultural interactions that span the globe? Pandemic planning is more important than ever before with threats that can develop rapidly and with little notice.
Speakers:
Amy S. Arrington, MD, PhD, Section Chief, Global Biologic Preparedness Director and Medical Director, Special Isolation Unit, Texas Children's Hospital, Assistant Professor, Pediatric Critical Care Medicine, Baylor College of Medicine
Brent D. Kaziny, MD, MA, FAAP, Disaster Preparedness Director, Emergency Medical Services for Children - Innovation & Improvement Center (US Dept of Health and Human Services), Medical Director for Emergency Management, Texas Children's Hospital, Assistant Professor, Pediatric Emergency Medicine, Baylor College of Medicine
About our Sponsor and Host: Texas Children's Hospital, located in Houston, Texas, is a not-for-profit organization whose mission is to create a healthier future for children and women throughout our global community by leading in patient care, education and research. We are proud to be consistently ranked among the top children's hospitals in the nation.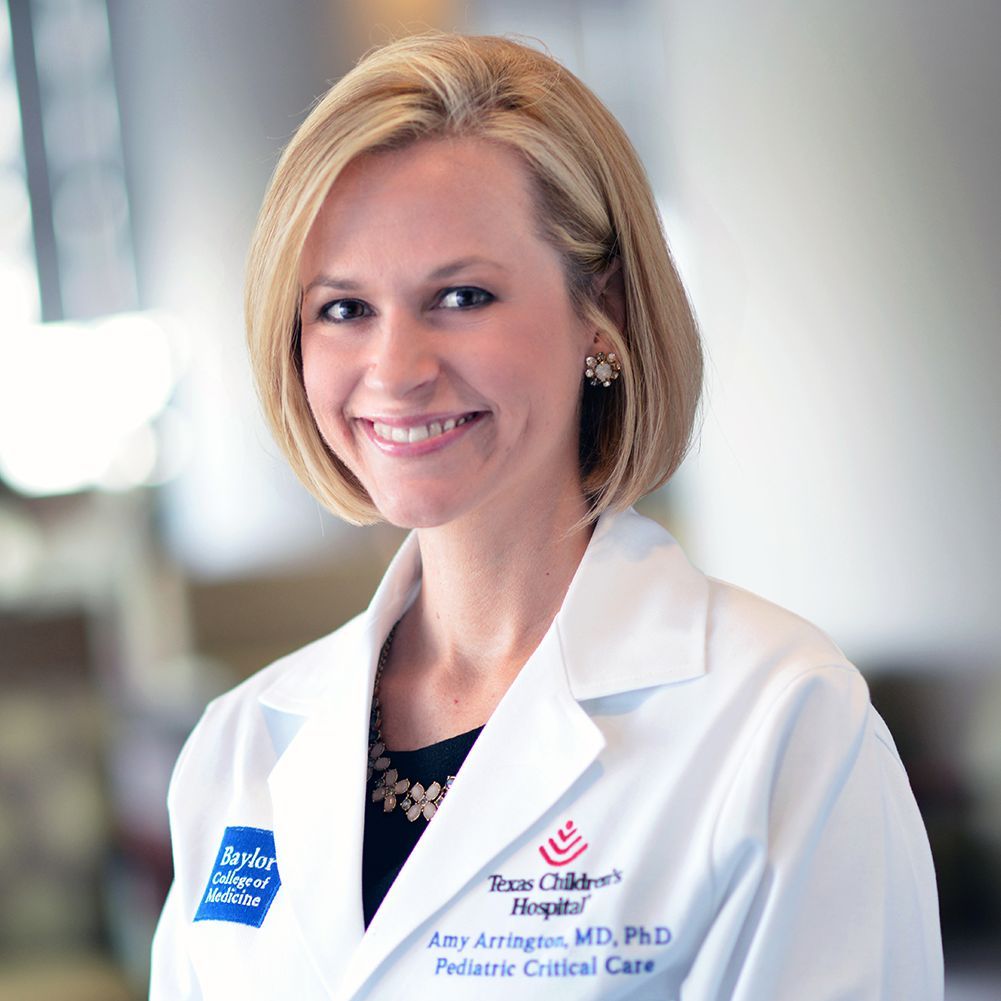 About our Speakers:
As a physician scientist, Dr. Amy S. Arrington's background includes training and experience in both critical care medicine, biocontainment and molecular virology, which provided her with the unique skills needed to help lead a successful project. Her background in virology includes research in the pathogenesis of Simian Virus 40 (SV40) in humans and animals. This research focused on the oncogenic potential in humans, as well as the replication, host range characteristics, transformation, and immortalization of SV40 in human cells. She gained expertise in establishing both in vitro and in vivo models, which ultimately led to multiple publications. It was through this research that she also gained an interest in combining her love of science with medicine.
Now, as a critical care physician at one of the busiest medical centers in the country, Dr. Arrington leads one of the largest biocontainment units available to patients with suspected or confirmed highly contagious diseases. This facility is a class Q biocontainment unit which meets all criteria of true biocontainment- complete with negative pressure rooms, one-directional workflow, autoclaves, and a biolevel 3 laboratory, all of which are centered around patient care. This state-of-the-art, 8-bed biocontainment unit is ICU-capable, and designed to care for any patient with a high-consequence pathogen. Her passion is not only providing safe and high-level care for patients with special pathogens and potential agents of bioterrorism on a local and state level, but to advance healthcare, including research in vaccine trials, by utilizing her unique facility and team.
Dr. Arrington received her BA in Biology from Baylor University in 1995 and her PhD in Molecular Virology (2003) and MD (2007) at Baylor College Of Medicine where she also completed her Residency in Pediatrics (2010) and Fellowship in Pediatric Care Medicine (2013).
Dr. Arrington is an Assistant Professor in Department of Pediatrics, Section of Critical Care Medicine at Baylor College of Medicine and since 2015, Dr. Arrington has been the Section Chief for Global Biologic Preparedness and the Medical Director for the Special Isolation Unit at Texas Children's Hospital. She is a member of the American Academy Pediatrics Subcommittee on Emerging Infections and Outbreaks and also members of the Society of Critical Care Medicine, Texas Pediatric Society and American Academy of Pediatrics.
Dr. Arrington is author and contributor to numerous papers and publications on infectious disease, biocontainment and care of highly infectious diseases such as Ebola, Avian Influenza, and MERS (Middle Eastern Respiratory Syndrome). She is a named co-investigator a grant funded through the Hospital Preparedness Program (HPP) Ebola Preparedness and Response Activities of U.S. Department of Health and Human Services Office of the Assistant Secretary for Preparedness and Response Office of Emergency Management Division of National Healthcare Preparedness Programs. The goal of this project is to create hospital preparedness against Ebola and other highly infectious diseases as well as developing a regional hospital network for Ebola patient care in the southwest region.
---
Dr. Brent D. Kaziny obtained his Bachelor of Science degree at Duke University, majoring in both Biology and Philosophy. Upon completion of his undergraduate degree, he attended the Columbia University Graduate School of Arts and Sciences where he completed a Masters of Arts in Philosophy. He obtained his medical degree at the University of Texas - Houston, School of Medicine.
Dr. Kaziny started his pediatric intern year at Tulane University, where he received the Hurricane Katrina Code Grey Hero Award for his efforts caring for patients and assisting with the evacuation of Tulane Hospital during the aftermath of Hurricane Katrina. His experience during Hurricane Katrina ignited his interest in pediatric disaster preparedness.
After completing his intern year, Dr. Kaziny transferred to Baylor College of Medicine, where he completed his residency training in general pediatrics. At Baylor College of Medicine he was involved in a number of preparedness initiatives including review of the patients cared for at the Reliant Stadium shelter and work on the creation of shelters for individuals with functional access needs.
Dr. Kaziny completed his fellowship in Pediatric Emergency Medicine at the University of Utah in Salt Lake City. While in fellowship, Dr. Kaziny served as a team physician for the State of Utah's Pediatric Strike Team, a pediatric specific disaster response team, and as the American Academy of Pediatrics' State disaster contact. He was also able to complete a variety of training programs in topics ranging from incident command to radiation emergencies and toxic chemical treatment.
Upon completing fellowship, Dr. Kaziny took a position as an assistant professor at Baylor College of Medicine and Texas Children's Hospital. He has served as a subject matter expert on the Texas A&M Engineering Extension Services curriculum development team for FEMA's Pediatric Disaster Response and Emergency Preparedness Course, continues to serve as adjunct faculty teaching the course across the country, and is the current Medical Director for the course.
At Texas Children's Hospital Dr. Kaziny works in the Emergency Center, is Director of All Hazards Preparedness and Response for the Section of Emergency Medicine, and serves as the Medical Director of the Emergency Management Committee. As Medical Director of the Emergency Management Committee, he fills the role of Chief Medical Officer under the Incident Command Structure.
Dr. Kaziny was also an instrumental team member in the training of hundreds of health care workers in the use of personal protective equipment during the Ebola outbreak of 2014. This work led to his involvement in the creation and development of Texas Children's Hospital's Special Isolation Unit, an 8-bed pediatric-specific bio containment unit.
Regionally, he serves as a member of the board of directors for the Southeast Texas Regional Advisory Council, working to continue to improve the region's readiness efforts. He also serves as Texas's State Disaster Contact for the American Academy of Pediatrics and as the Disaster Advisor for the State of Texas EMSC State Partnership Advisory Council. He is the Co-Chair of the Committee on Pediatric Emergency Medicine for the Texas Pediatric Society.
On a national level, he serves as Disaster Preparedness Director of the Emergency Medical Services for Children Innovations and Improvement Center (EMSC EIIC). In this role, he interfaces with a number of national organizations working to improve the care of children in disasters. This work includes, but is not limited to, sitting on a number of expert panels. He is also an executive member of the National Pediatric Disaster Coalition.
Ever since his first exposure to disaster work, during his first months as a physician in New Orleans during and after Hurricane Katrina, Dr. Kaziny has devoted much of his career to working to improve the care of children in disasters of all types. He continues this work on many levels as described above, hoping to improve his institution's response to local man-made and natural disasters, but also hoping to affect change on a regional and national level as well.
---

Share with Friends and Colleagues
Note:
We welcome everyone to attend our exceptional networking and educational events. Your first program event is free and without obligation. There is a nominal fee for returning guests and non-members. Your support of the growth of our profession and the chapter is truly appreciated.
---
Thank you, past sponsors!
If interested in sponsoring ACP South Texas, please contact our This email address is being protected from spambots. You need JavaScript enabled to view it..
---
Reserve a seat at our events on Eventbrite.
Eventbrite
Follow us on Twitter or Facebook, or Join our Group on LinkedIn!